Ola, my name is Ariza!
The Dog-Owner Coach from Perth Canine Craft
My Goal
My goal is to teach dog owners (Pet-parents) to recognise their particular dog's intrinsic needs and then create ways the owner and dog can communicate effectively to build a better relationship. Especially important in the training of Assistance- and Therapy Dogs. Achieving this goal involves training at both ends of the lead.
Meet The P.C.C. Tribe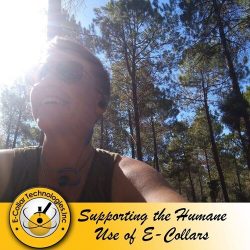 Verbal Diarrhea C.E.O.
Oh boy, let's see. What do you need to know? I am proactive, and I love learning new things. I am entirely task-oriented, and I don't take criticism personally but rather use it as motivation to succeed.
I am resilient and would rather face a problem head-on than let it be, which can sometimes make me impatient. I value service to others, hard work, transparency, trustworthiness, reliability, compassion and clear communication.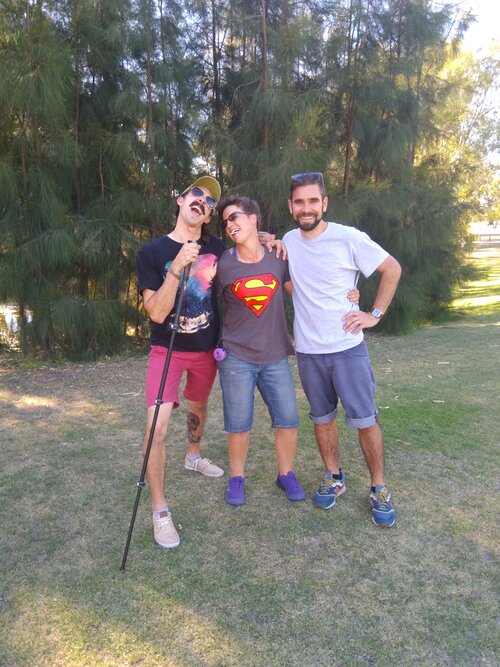 BOOK IN FOR A FREE PHONE CONSULTATION

MY STORY
HOW I BECAME A DOG TRAINER
2010

My Dog Training Career Began

I was employed by a Dog Security Company, where I raised puppies for multiple training purposes in South Africa.

I had to give these puppies the basic skills and confidence to deal with stress/ obstacles they would encounter later in their lives. Those who were not chosen for any profession went to pet homes, and these pups were able to adapt to their new homes quickly because of the emotional survival skills I had equipped them with.

I completed a qualification at Ethology Academy in South Africa equivalent to the Australian Cert III in Dog Training and Behaviour.

2013

I Moved To Australia With My family.

I got the fantastic opportunity to study and train with horses and greyhounds. Although I decided that horses are not my thing, many of the concepts and principles I learned are transferable to the training of other animals. Training is training, after all.

2015

I Returned To South Africa.

I assisted my previous employer with their breeding programs; I raised and prepared puppies for further training with anti-poaching units and other law enforcement agencies across the southern parts of Africa. Training included but was not limited to; socialisation, habituation, confidence-building, creating humility, rappelling out of helicopters, preventing destructive behaviours, creating a communication system, getting them to switch on & off, engagement-building, and much more.

I also gave demonstrations and provided training to the general public, potential investors and clients. I just loved showing off the basic skills my young puppies had acquired!

Aside from paid work, I also volunteered and helped with the more difficult dogs at Wollies animal shelter.

2017

I Returned To Australia

I was fortunate to train pet dogs for a local Board and Train company.

I was privileged to work with a great team and exposed various dog breeds. I had so much fun working with all their quirky personalities. I loved learning to run puppy- and group classes and private lessons. It was also a great opportunity to further improve my dog-handling skills.

I expanded my knowledge by attending a multitude of seminars and workshops. I began my NDTF Cert III in Dog Behaviour and Training in September 2018 and completed it the following year.

September 2019​ – 2021.

I have been a sole proprietor, bringing my expansive knowledge to the average pet owner in the comfort of their own homes!

I know how overwhelming training a new puppy or adult dog can be–much of what I've learned has been from my own mistakes. I can help you avoid several common training errors; however, since we often learn best from making mistakes, I will support you as you make your own. In addition, I work closely with several allied professionals who assist owners and improve the Pet industry. These include Rescue/Shelter Staff/Volunteers, Breeders and their clients, other Trainers, and several Veterinarians.

Dogs and educating others are my passion – what better job could I have to experience the best of both worlds?!
"PTSD Dog's Australia is a Not For Profit Charity solely dedicated to the rescuing, re-homing and training of suitable displaced and unwanted dogs to support and assist Australia's First Responders (Fire, Police Ambulance) and the Australian Defence Force (A.D.F.) Air Force, Army and Navy who has Post-Traumatic Stress Disorder (PTSD) both current and retired." And so much more!
2021 – Present.

It has been an amazing journey, I have been working with clients with mental and/or physical disabilities – I help them and their families the skills to handle and live with their dogs in a safe way in their homes and out in public.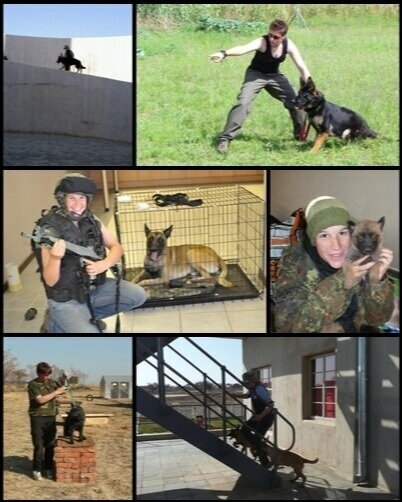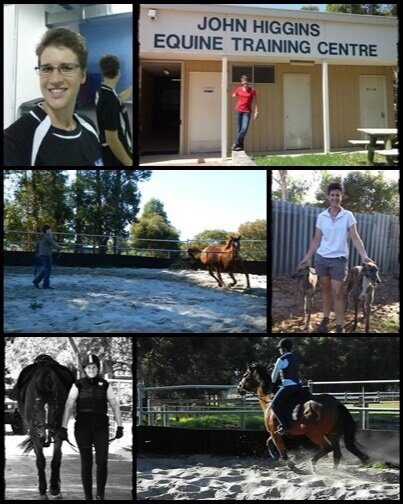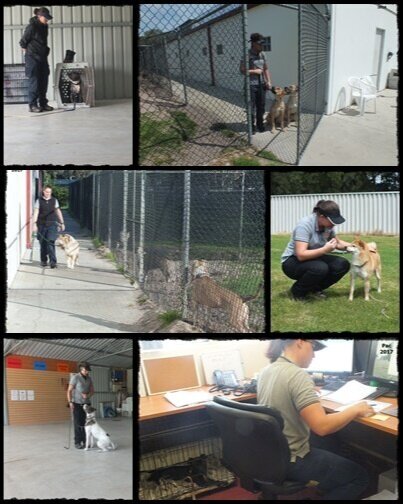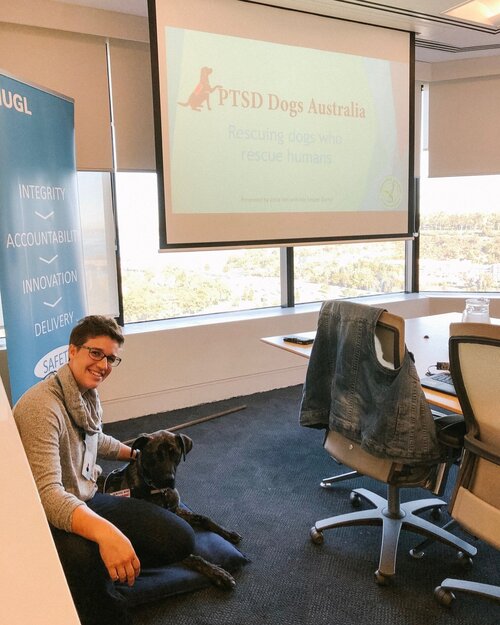 MY STRUGGLES
I thought all my knowledge about dogs and dog training would be enough to have my very own working dog as a pet.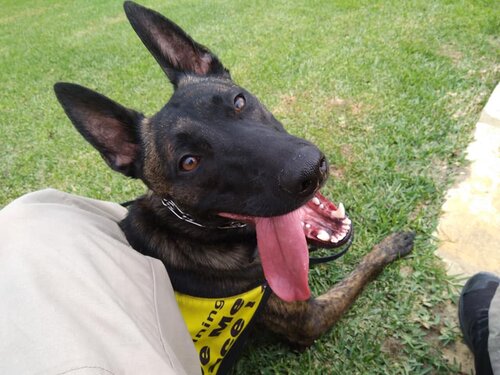 Boy, was I ever wrong! While I loved the challenge (most of the time), It wasn't long before Ziva was nicknamed "the Demon" at my previous workplace. She was immensely destructive; she dug holes in China, she didn't just jump on people; she bounced off them, no matter who they were. She also ripped my clothes when she wanted to play. Her high-drive persistence drove me nuts; she would constantly drop a stick or ball in my lap to play. "Put it away," you say? Ha!–Cue the excessive barking and pacing. She was reactive to any movement, her prey drive kicking into high gear even from a leaf blowing past. And all of that was on her good days!
But I wouldn't trade her for anything; she was the dog I needed to become a better dog trainer, but more importantly, a better dog owner!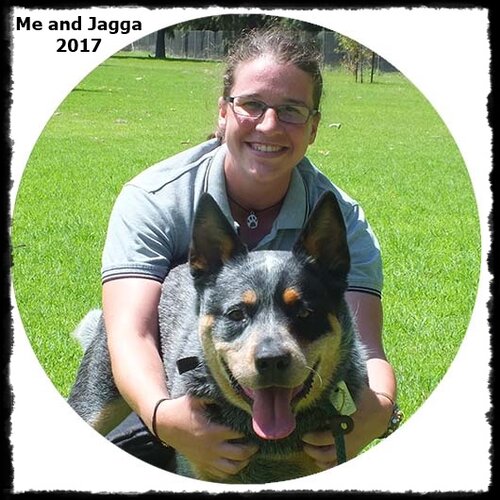 After experiencing workplace bullying for over six months, and a work-related injury, I was diagnosed with PTSD and severe depression.
If it weren't for my dog, Ziva and my family, I would not be alive today. Taking care of Ziva's physical needs forced me out of bed every day. Dogs remind us how to 'Be Here Now, and after playing with her, I felt good enough to face the days challenges. Ziva was always happy to go for a walk–even at odd hours when I couldn't sleep or didn't want to have another nightmare. She gave me the sense of purpose I lacked at work. She reminded me that my passion was serving others and still had more to learn and offer.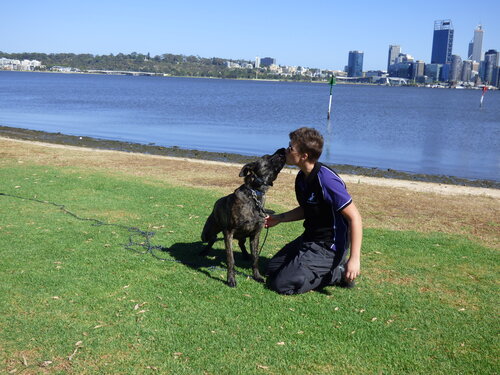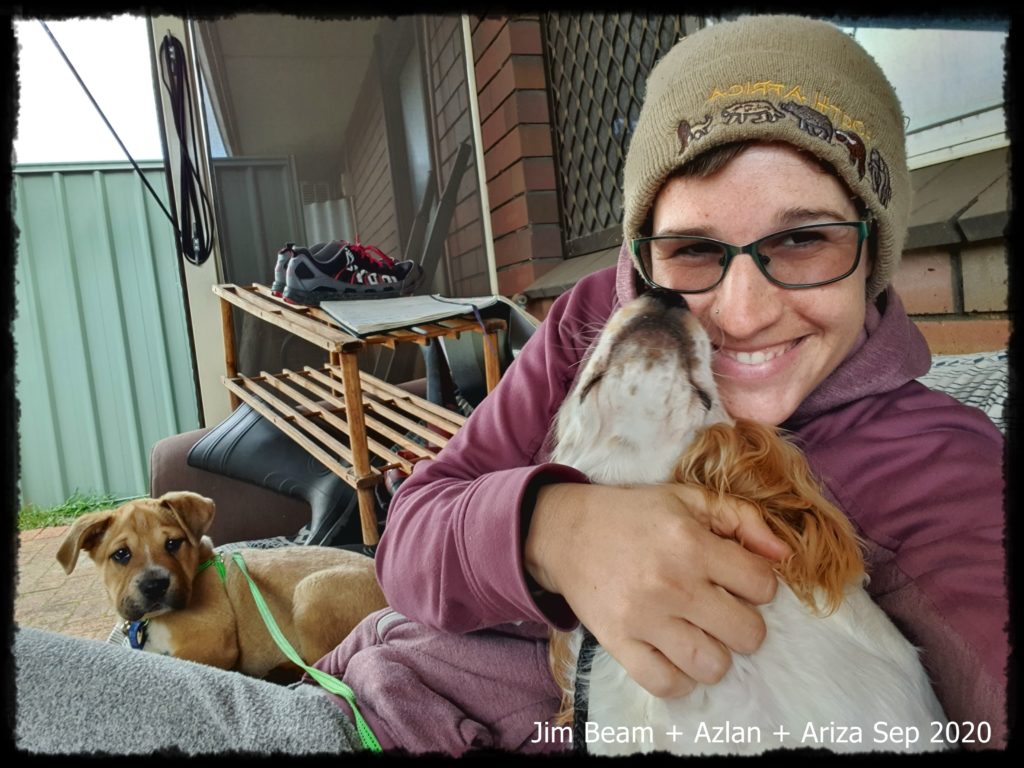 I resigned in May 2018 to escape my then toxic work environment. While I wasn't quite ready to tackle another employer, the everyday demands of life did not stop, so I decided to start my own company. Perth Canine Craft.
It wasn't long until PTSD Dog's Australia's very own C.E.O. Angie Weeks contacted me to bring this excellent service to the West Coast. Enter center-stage Darryl. Not only was Darryl instrumental in my learning the skills needed to pass the Public Access Test, but he was a vital part of my therapy as I put my life back together, running my own business and coping with the day-to-day demands of life.
Recently diagnosed with High Functioning Autism Level 2 and ADHD, life makes more sense. As I learn more about myself, I want to help those who are in the same boat and might need a dog to help themselves improve their quality of life, whether they need a dog at home (the Home Helper Hound) or a Fully qualified Assistance Dog – I want to help families train their own dog's.