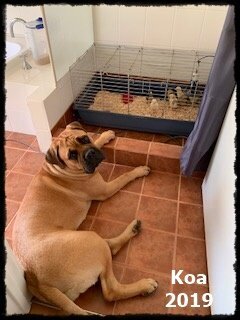 "
I've been using the information you shared with us on your visit and researched more training with the Ecollar, and then spent more time with her in training (which was what she needed- consistent training, not being able to get away with things). When I understood that she needed to know the zap came from the chicken, rather than me telling her no, then she started to back off and give them always a wide berth.
She's much better with listening to me and will now walk with the chooks and in the chicken coup without even looking at them in an 'I'm going to chase you' way. It's all progress, and I'll keep on with constant training.
I'm very grateful for the time you spent here and the information you shared. So if you are still interested in getting some baby chickens, just let me know; I have some small ones here I will give you free for the help you have given us; it was your advice that got us to this point."
Amy H. (Lower Chittering, WA)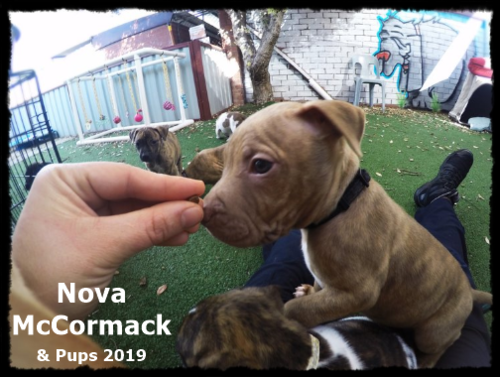 "I just wanted to say a massive thank you for taking the time to come out and visit me to provide info and advice on Olive & her ten pups I was fostering for SPDR…Your visit made a huge difference to my confidence in what behaviours to expect when pups are weaning from their mum. In regards to your puppy training, you certainly know your stuff !! An expert on pups, very knowledgeable & provided great insight into training pups. Thanks again, Ariza; your visit made a challenging time with ten pups & Mum, a lot more manageable" ☺️🐾🐕 "
Nova McCormack. (Coogee, WA)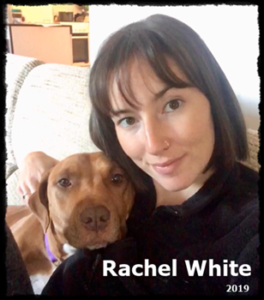 Rachel is a Foster carer and was looking after Irena while she was recovering from her spay.
"I just wanted to say thanks for your feedback on peeing a while ago! She did stop having accidents for the last week or so."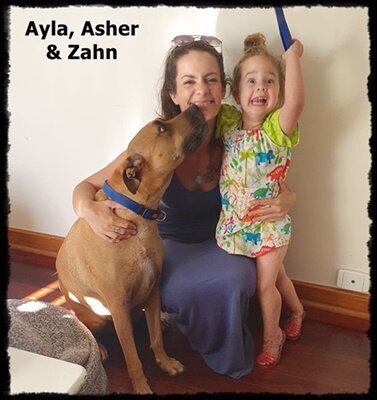 Ariza has been amazing with my dog. She is friendly, her knowledge is vast, and she has a true passion for working with animals. My dog always loves to see her and is always happy and tired once he comes home. I would highly recommend Ariza; she truly is lovely.
Ayla C. (Bassendean, WA)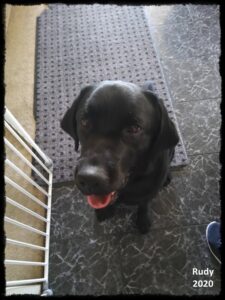 Rudy jumped up at people and other dogs. I was easily distracted by things like cyclists and joggers and more or less anything that moved. He would sit down and refuse to move when people were walking behind and either pulled along or dawdled well behind, so we were constantly yanking him along, which was just not enjoyable for any of us.
After training, he's much better behaves. Greets people and dogs with just a small pull now, helped by the prong collar. He does not jump up so much, and walking is a nicer experience. He pays more attention to us, and we feel more in control. Ariza is excellent, and we would certainly recommend her to other dog owners.
Nikki T. (Winthrop, WA)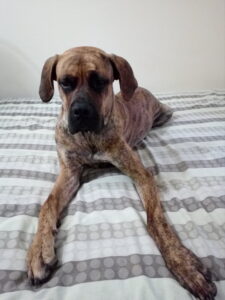 Ariza travelled to Thornlie and spent an hour and a half with us, assessing Bella.
Ariza was kind enough to recommend a trainer in our area so that we, as pensioners, would not have the added cost of travel included in the cost of training.
Unfortunately, the local trainer was fully booked for March, but the advice Ariza provided to us concerning Bella's behavioural problems has been most helpful in the interim.
Vivienne H. (Thornlie, WA)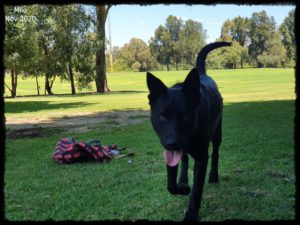 "Ariza started to work with my Koolie puppy, Milo, when he was three/four months old. I chose Ariza because I wanted a dog whisperer, and Ariza is undoubtedly that; she knows how dogs think and are constantly advocating for the dog. I have had three previous dogs, all well behaved, but on many occasions, Ariza has known precisely how Milo is thinking and what to do about it when I have been baffled! I want to train Milo as a therapy dog to help me in my work as a therapist in mental health. Ariza has been excellent. The first sessions focused on teaching Milo, a working dog, to relax, and he has been a well-behaved pup in my workplace – for several hours a day – since he was five months old. Sessions also focused on establishing an effective communication system with Milo as a basis for obedience training. Milo is now ten months old. He is highly obedient, and we actually don't need a lead for him anymore because he is so responsive. I can safely crossroads and keep him away from other dogs if necessary, just with voice commands. I'm now looking forward to starting Milo's therapy dog training in earnest when he is one year old."
Annette M. (Marmion, WA)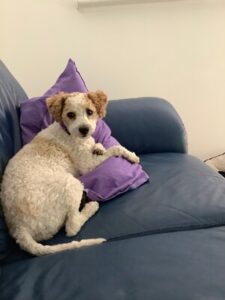 "Before training, Bella was a law unto herself. However, it was me, the owner, that had to learn. Bella is a better student than me!!
Bella is slowly responding to commands. It is the owner (me) who is culpable.
I would recommend Ariza to other new dog owners – but be prepared! One needs time, self-discipline & patience. Ariza has all the hallmarks of excellence in teaching. Be prepared to respond as if you're working on a PhD with a highly professional educator."
Rosie C. (South Perth Foreshore, WA)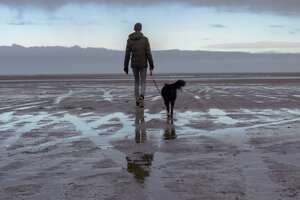 "After recently separating from my ex and our other older dog, Pooch and I were keen to get a new walking routine in our new neighbourhood. The problem was, Pooch would always need to be first and pull to the point it was unbearable to enjoy the walk. His eye is on the prize – off-lead fetch! Consequently, I would get angry, tell him no, pull him back and get to the park asap to play fetch to wear him out so we could have a leisurely walk home.
Ariza arrived, we had a chat about Pooch's behaviour, and she set some ground rules for me, the pack leader, to put into place.
After a bit of necessary theory, we took to our quiet street, and Ariza took the lead and showed me how to read the signs Pooch was giving me and what to do.
After one hour, I realised I had a super-intelligent dog that was quick to respond after Ariza instructed us both in "walking the dog 101". We used no treats, only praise and a lead that Ariza kindly gifted to us. We never got to the park that day, but we now enjoy two walks a day, and of course, some fun off lead fetch time!!
I can highly recommend Ariza at Perth Canine Craft to help you and your dog sort out any problems you have. It's the simple things in life that matter -we are lucky and very grateful that we can now enjoy our walks!"
– 7 October 2019.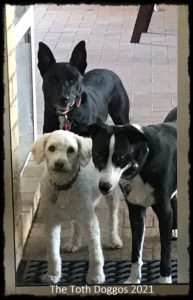 "We contacted Ariza at Perth Canine Craft to help us with our two-year-old rescue dog Ted who was very lead reactive and not dog social at all, and Rudi, our one-year-old border collie, who had a very poor recall and was hyperactive at home.
We have been very impressed and amazed at how much our dogs have improved in such a short time. Ariza's method is easy to follow, not time-consuming, and you can see results in your dog's behaviour very rapidly. We have total control over both our dogs when off lead at the park, and their recall is 100% every time. Ted is still a work in progress, but he now can walk past other dogs without barking/leaping and looking very frightening, and we are able to walk him off lead knowing that we can call him to us if we need to. Ariza is straightforward, clear, available, and so knowledgeable, and I would recommend her and her programme to anyone that is having any problems with their dogs."